We will explain the property view here.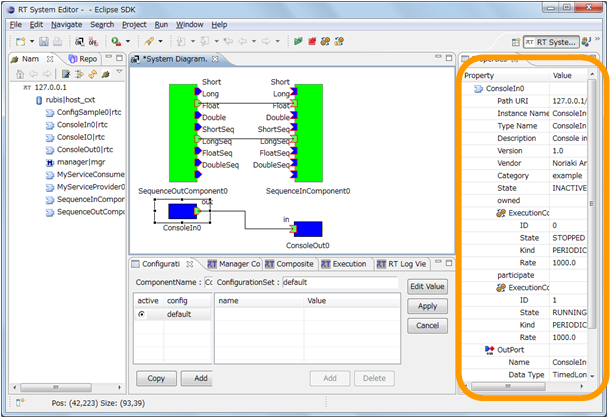 Property view position

In the Properties view, RTC and connector profile information selected in System Dialog is displayed in real time. (Even if RTC is selected, it will be reflected immediately if a change is detected)

Property view

The meanings of the displayed icons are as follows.

Property icon list
No.
Icon
Name
Display Contents
1

RTC
InstanceName, TypeName, Description, Vender, Category, State(It is displayed based on the LifeCycleState of the first ExecutionContext)
2

ExecutionContext
State, Kind, Rate
3

ServicePort
Name, Property information list
4

Outport
Name, Property information list
5

Inport
Name, Property information list
6

PortInterfaceProfile
InterfaceName, TypeName, PortInterfacePolarity
7

manager
Components (List of generated component names)
Loadable Modules (list of loadable module names)
Loaded Modules (List of loaded module names)
In the specification of RTC, LifeCycleState of RTC exists for each ExecutionContext. Therefore, there are multiple states, but in RT System Editor, only the 1st ExecutionContext is used to display the STATE.