Please note that it is not included in Python and Java versions of OpenRTM-aist. On Linux, build and install it according toOpenCV Sample Code Build Procedure
Overview
By starting ImageSubtraction component, the background image is extracted from the input image, the foreground image part is output as a mask image and the background image is output. Used with OpenCVCamera and CameraViewer component. (Note that this component currently does not work properly in a Windows environment, so please use it in Linux (Ubuntu 18.04) environment.)
Start screen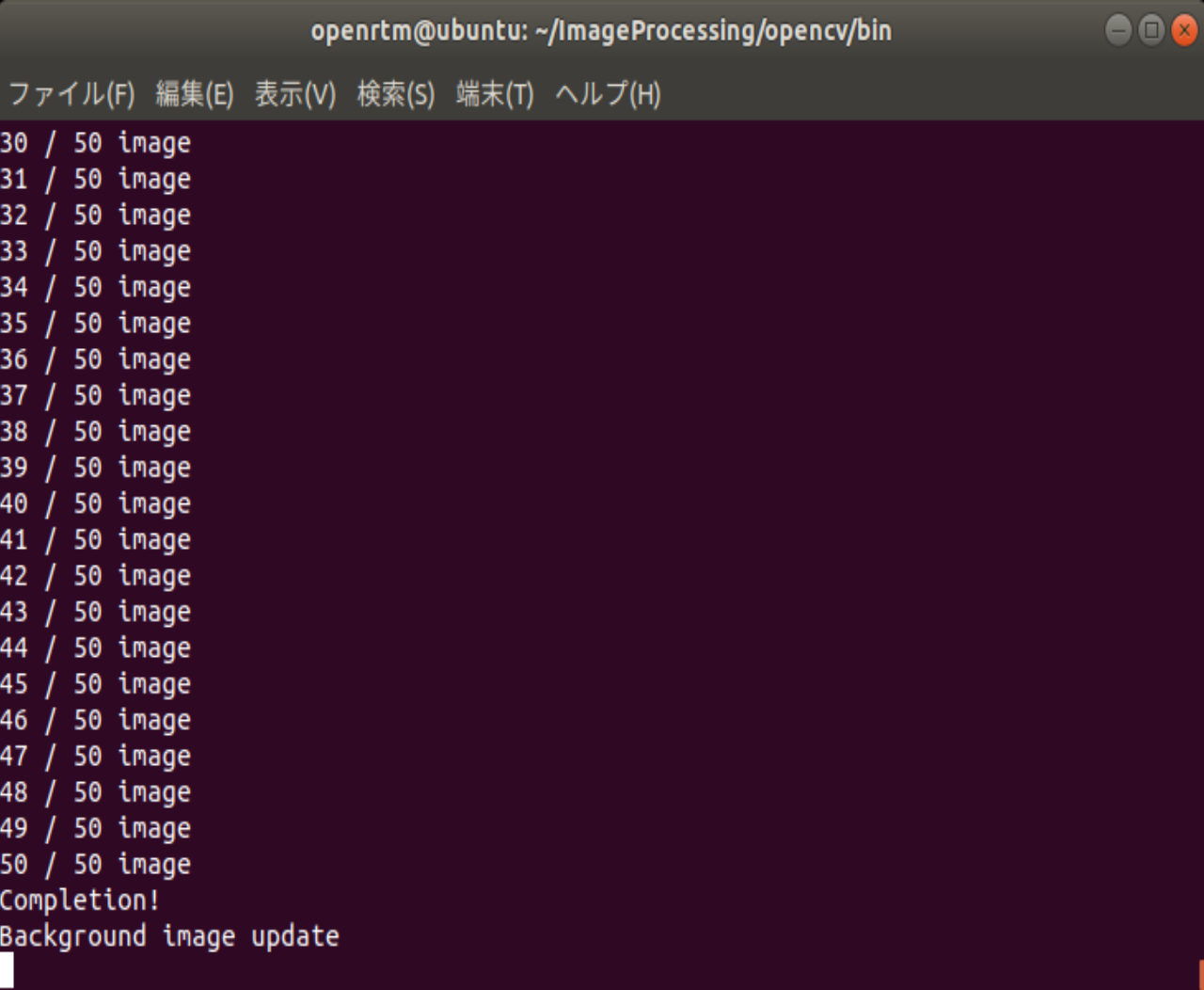 Execution screen of ImageSubtraction component
How to use
ImageSubtraction is a component for extracting the background image from the input image. Here, it is used together with OpenCVCamera for capturing images from USB Camera and CameraViewer component for displaying processed images.
Procedure (The following is the procedure on Ubuntu 18.04.)

Open a new terminal.
Install the sample code according to the above [[OpenCV sample code build procedure for Linux>//node/6974].
Start OpenRTP according to OpenRTP and start RTSystemEditor, and display RTC in Name Service View. Open a new SystemEditor. See RTSystemEditor details on how to use RTSystemEditor
Open a new terminal.
Create rtc1.conf, rtc2.conf, rtc3.conf by the following steps.  $ cp rtc.conf rtc1.conf  $ cp rtc.conf rtc2.conf  $ cp rtc.conf rtc3.conf
Open an editor software to edit each "rtc?.conf" and add the following line to the end of the each files.  naming.formats:% h.host_cxt/CameraViewer?.rtc  (Where "?" Is the number "1", "2", "3")
Start a new terminal and input the following commands

 $ cd ImageProcessing/opencv/bin
 $ ./CameraViewerComp

Repeat to start a new terminal and execute CameraViewerComp with adding "-f rtc1.conf", "-f rtc2.conf", and "-f rtc3.conf" option. Then, you will see 4 CameraViewer screen.
Start another terminal and start OpenCVCamera component by inputing following commands.

 $ cd ImageProcessing/opencv/bin
 $ ./OpenCVCameraComp

Start Terminal again to launch ImageSubtraction component.

 $ cd ImageProcessing/opencv/bin
 $ ./ImageSubtractionComp

Click [>] in the Name Service view on the RTSystemEditor screen and confirm that the components "CameraView0", "CameraViewer1", "CameraViewer2", "CameraViewe3", "OpenCVCamera", and "ImageSubtraction" are displayed.
Click [Open New System Editor] button at the top of RTSystemEditor to open a new System Editor and display [System Dialgram] newly.
Drag and drop the above five components onto the System Diagram.
When you move the mouse out of the "capture_image" window, the background image is captured at that timing and displayed it on the back_image. Check what happens to the other screens as well.   The following can be set as configuration parameters.
| | |
| --- | --- |
| Parameter name | meaning |
| control_mode | b and m can be selected. In the case of b, the background image is captured according to the key event. In the case of m, the mode switches between DYNAMIC_MODE, which determines the threshold a pixel by a pixel, and CONSTANT_MODE, which uses one threshold for the entire screen. |
| image_height | Specifies the number of pixels in the vertical direction, but does not work in this sample. |
| image_width | Specifies the number of pixels in the horizontal direction, but does not work in this sample. |
| threshold_coefficient | Coefficient used in DYNAMIC_MODE |
| constant_threshold | Threshold used in CONSTANT_MODE |